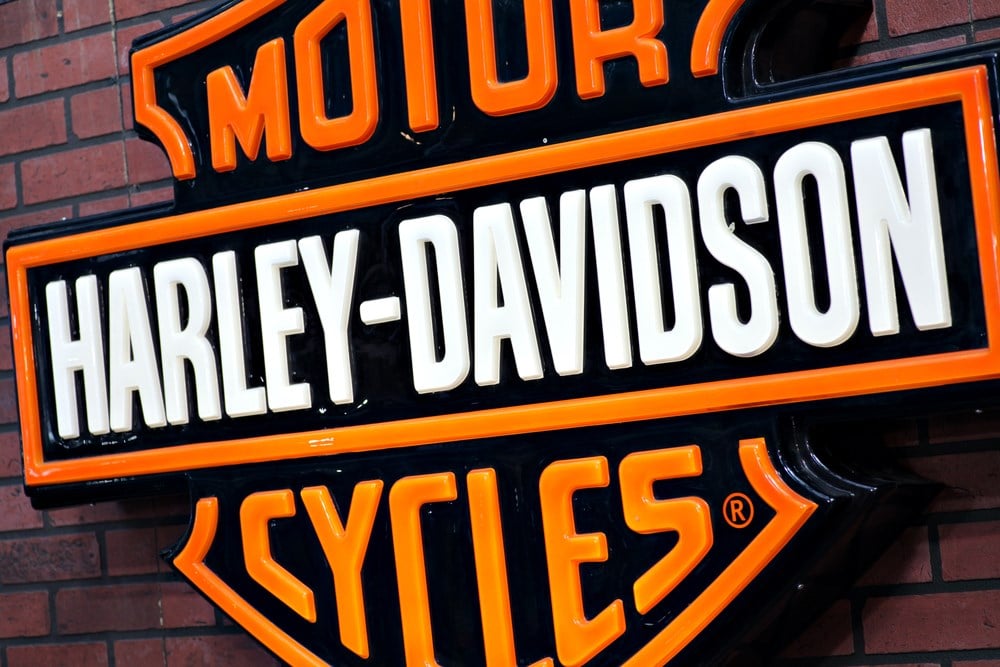 Iconic motorcycle manufacturer Harley-Davidson Inc. (NYSE: HOG) stock has been in the dumps since its strong fiscal Q1 2023 earnings release. Harley Davison falls behind Polaris Inc. (NYSE: PII) as the largest motorcycle manufacturer in the U.S. The company beat estimates and improved margins, but shares have been cascading lower since then. The market has low expectations for the company, allowing patient investors to get in. The supply chain disruptions felt post-pandemic have been alleviated.
The company has been in a turnaround since initiating its five-year turnaround strategy called Hardwire as it executed a SPAC spin-off of its electric vehicle (EV) motorcycle division Livewire Group Inc. (NYSE: LVWR) in September 2022, which it still owns 89.4%. Recreational travel and leisure services are experiencing robust demand shifting from consumer discretionary spending on goods. Harley-Davison gains on one but loses on the other.
Chugging Along
On Apr. 27, 2023, Harley-Davidson released its fiscal first-quarter 2022 results for the quarter ending March 2023. The Company reported an earnings-per-share (EPS) profit of $2.04, excluding non-recurring items, versus consensus analyst estimates of $1.40, a $0.64 beat. Operating income grew 28%. Net income grew 37% to $304 million. Revenues grew 19.7% year-over-year (YoY) to $1.79 billion, beating analyst estimates of $1.38 billion.
Division Performance
The Harley-Davidson Motorcycle Company (HDMC) division revenues rose 21% due to price hikes, wholesale shipment growth, and a favorable unit mix. Harley-Davidson Financial Services' (HDFS) operating income fell (32%) YoY on higher interest expenses and credit losses. Its LiveWire EV motorcycle division did $8 million in revenues falling short of consensus analyst estimates of $17 million. Losses were ($25 million) in the quarter.
Regional Stats
Global motorcycle shipments rose 14% YoY, 62.2K ahead of the riding season. However, global motorcycle sales fell (12%). North American revenues fell (17%) due to the timing of new product rollouts and a weakening macro backdrop. Asia Pacific markets were strong, notably in Japan and Australia. EMEA revenues fell (6%), driven by market exits following the Sportster sunsetting. Weak macroeconomic conditions adversely impacted Latin America.
CEO Insights
Harley-Davison CEO Jochen Zeitz reiterated the principles of its Hardwire turnaround strategy going into its third year, "The Hardwire emphasizes stronghold categories that we believe are the most profitable motorcycle segments globally as well as selective expansion opportunities, placing an overriding focus and desirability that reflects the premium nature of our brand and product. As we navigate the evolving macro environment, we will remain committed to these principles instead of chasing volume for volume's sake in our core categories."
The touring, large cruiser and trike segments are the most profitable as it kicked off its 120th anniversary with the launch of CVO Road Glide and six other limited edition models, including the Road Glide 3 trike model, Nightster special middleweight sport motorcycle and Freewheeler trike model.
Fiscal Full-Year 2023 Outlook by Division
The company is structured into three divisions. The HDMC division revenue growth is expected to be 4% to 7%, with an operating income margin of 14.1% to 14.6%. HDFS's operating income is expected to fall (20%) to (25%). LiveWire motorcycle unit sales are expected between 750 to 2,000, with an operating loss of ($115 million) to ($125 million). Full-year capex spending is expected between $225 million to $250 million.
Harley-Davidson analyst ratings and price targets are on MarketBeat.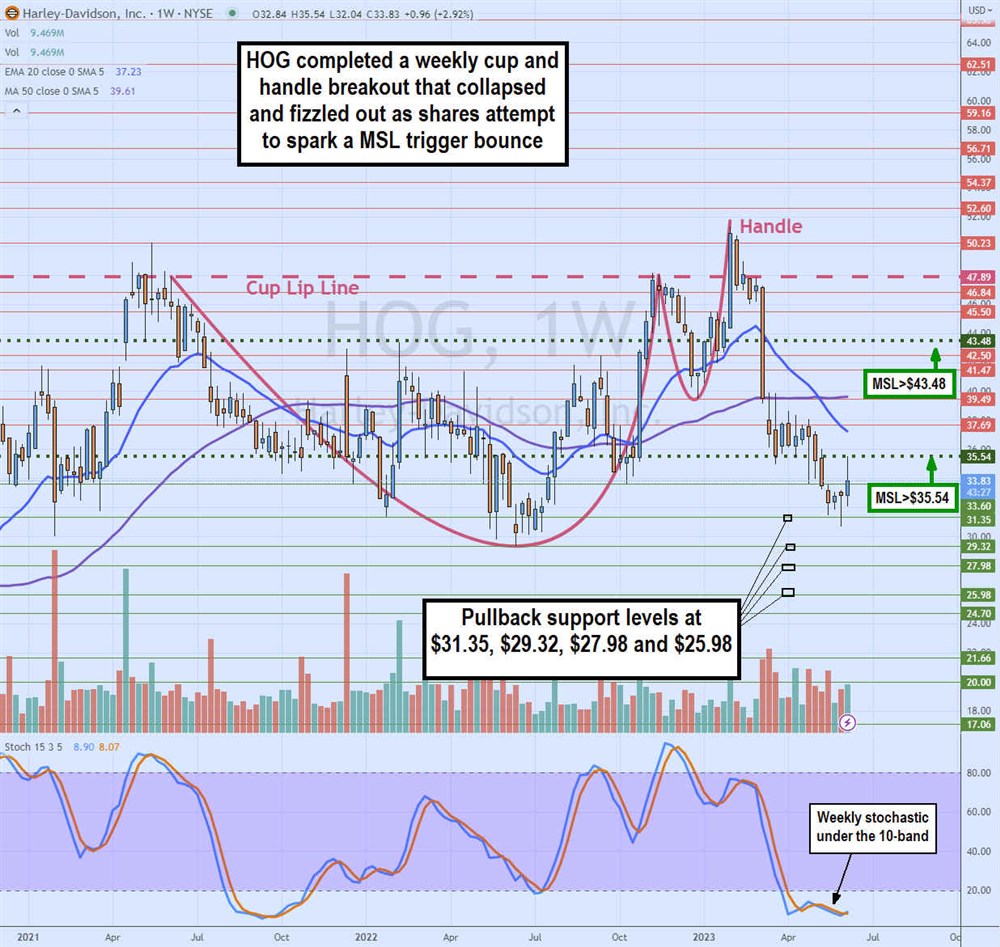 Weekly Cup and Handle Breakdown
The weekly candlestick chart on HOG displays cup and handle breakout that triggered the cup lip line breakout through $47.89 to peak at $51.42 in February 2023. Shares have since been cascading lower despite the market rally. The weekly stochastic rejected the 80-band break attempt to oscillate through the 20-band fully.
HOG fell to a low of $30.69 at the end of May 2023 before forming a weekly market structure low (MSL) trigger at $35.54 as the stochastic attempts to coil under the 10-band. The weekly 20-period exponential moving average (EMA) resistance falls at $37.23, followed by the weekly 50-period MA at $39.61. Pullback supports are at $31.35, $29.32, $27.98 and $25.98.