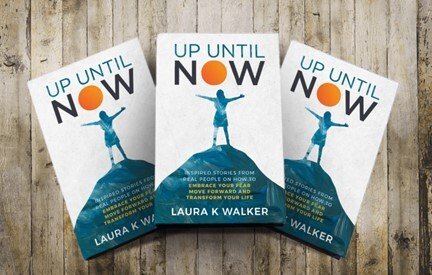 ROSWELL, GA: Up Until Now: Inspired Stories from Real People on How to Embrace Your Fear, Move Forward and Transform Your Life rocketed to the top of the best seller lists in a number of categories in multiple countries including the United States, Canada, United Kingdom, France, Australia and more.
Up Until Now is a compilation of true stories from everyday people who were hurting, anxiety ridden, distraught and broken hearted Up Until Now…These amazing souls faced their fears and stepped out in Faith; mentally, physically, spiritually, emotionally, and financially. That decisiveness of action facilitated massive transformation in a positive way.
Featured author Matt Alexander shares his story along with others in this moving book, designed to give the reader a quick dose of inspiration.
Real people from all around the world share their true stories of pain, heartache, grief and loss. They share their moments of overcoming and creating a renewed hope and reality after the storm settles. It's all Up Until Now…because their stories do not end there!
Through these stories of transformation, the reader will feel the genuine and authentic hearts of each of the authors as they write about job loss, navigating a messy divorce, surviving the death of a loved one, being financially devastated and more. All facing circumstances that seem overwhelming and unsurmountable.
The resounding theme of overcoming is captured in these emotionally charged stories. This book serves as a collective voice to anyone who is struggling, stuck, scared, depressed, and looking for something bigger while praying for some glimmer of hope.
Up Until Now: Inspired Stories from Real People on How to Embrace Your Fear, Move Forward and Transform Your Life available on Amazon.com.
About Matt Alexander
Matt is a tenured marketing and advertising professional with agency and client-side experience, focused on driving new revenue into businesses. Industry experience includes dentistry, DSO/DPO space, Ophthalmology & Optometry, banking, mortgage, consumer products, and loyalty incentive solutions.
Currently, he's the Director of Marketing for a multi-practice, multi-specialty eye care group in Fort Worth, TX focused on growing new patient volume and engaging current patients through integrated marketing campaigns.
Previously, Matt worked for two dental service organizations as a Marketing Director serving over two hundred dental offices across the nation. Matt also integrated new practices into the organizations by assessing their needs and creating strategies to increase revenue and new patient numbers. He also managed the marketing strategy and execution for forty-seven offices in Texas and Arizona, specializing in multi-office locations and de novos.
Matt started his marketing career on the agency side which included managing a small boutique agency in the medical field (dental, ophthalmology, and
optometry practices) where he created and managed strategic integrated campaigns to increase revenue and drive new patients into their practices. He's managed websites, performed SEO, SEM, PPC, email drip campaigns, SM and marketing tactics, as well as training the frontline.
Graduating from Texas Christian University with a Bachelor of Science in Communications with an emphasis in media management and production, he has clearly made his mark. Go Frogs!
When Matt isn't working, he loves traveling around the state of Texas for the best tacos and scuba diving locations.