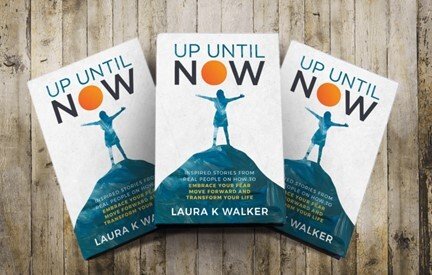 ROSWELL, GA: Up Until Now: Inspired Stories from Real People on How to Embrace Your Fear, Move Forward and Transform Your Life rocketed to the top of the best seller lists in a number of categories in multiple countries including the United States, Canada, United Kingdom, France, Australia and more.
Up Until Now is a compilation of true stories from everyday people who were hurting, anxiety ridden, distraught and broken hearted Up Until Now…These amazing souls faced their fears and stepped out in Faith; mentally, physically, spiritually, emotionally, and financially. That decisiveness of action facilitated massive transformation in a positive way.
Featured author Kirsten Fagan shares her story along with others in this moving book, designed to give the reader a quick dose of inspiration.
Real people from all around the world share their true stories of pain, heartache, grief and loss. They share their moments of overcoming and creating a renewed hope and reality after the storm settles. It's all Up Until Now…because their stories do not end there!
Through these stories of transformation, the reader will feel the genuine and authentic hearts of each of the authors as they write about job loss, navigating a messy divorce, surviving the death of a loved one, being financially devastated and more. All facing circumstances that seem overwhelming and unsurmountable.
The resounding theme of overcoming is captured in these emotionally charged stories. This book serves as a collective voice to anyone who is struggling, stuck, scared, depressed, and looking for something bigger while praying for some glimmer of hope.
Up Until Now: Inspired Stories from Real People on How to Embrace Your Fear, Move Forward and Transform Your Life available on Amazon.com.
About Kirsten Fagan
Kirsten Fagan spent the first half of her life moving around, living in the Midwest and Hawaii. In 2004, she moved to Alabama and a few years later she met and married her sweetheart, Josh. Kirsten and her husband have two beautiful little girls. Kirsten is also a dog mom and a gardener. She has a deep love of music, and she loves to craft (when time allows).
Kirsten spent fifteen years working in healthcare, loving and caring for the elderly. It was during this time that she cultivated her uncanny gift for intuition and empathy. She knows what's needed in any given scenario to keep operations gently moving forward. Kirsten worked as Unit Coordinator for two Specialty Care Facilities where she quickly learned how to provide a wide range of support to wellness professionals, patients and their families.
In 2014, with an eight-month-old baby and the amazing support of her family, Kirsten graduated with a Bachelor's degree from the University of South Alabama.
In 2018, Kirsten made the decision to begin working from home and began building her business, B & G Virtual Solutions. She loves to learn new things, which has played a large part in her personal and professional growth. Kirsten thrives off of her decision to support Life Coaches, as they help others learn to live fulfilling and happy lives. More recently, Kirsten decided to lean into her love of travel and became a Travel Agent and expanded her already booming business.