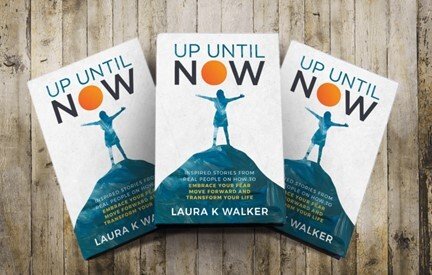 ROSWELL, GA: Up Until Now: Inspired Stories from Real People on How to Embrace Your Fear, Move Forward and Transform Your Life rocketed to the top of the best seller lists in a number of categories in multiple countries including the United States, Canada, United Kingdom, France, Australia and more.
Up Until Now is a compilation of true stories from everyday people who were hurting, anxiety ridden, distraught and broken hearted Up Until Now…These amazing souls faced their fears and stepped out in Faith; mentally, physically, spiritually, emotionally, and financially. That decisiveness of action facilitated massive transformation in a positive way.
Featured author Diana Cherryn Kelly, Ph.D. shares her story along with others in this moving book, designed to give the reader a quick dose of inspiration.
Real people from all around the world share their true stories of pain, heartache, grief and loss. They share their moments of overcoming and creating a renewed hope and reality after the storm settles. It's all Up Until Now…because their stories do not end there!
Through these stories of transformation, the reader will feel the genuine and authentic hearts of each of the authors as they write about job loss, navigating a messy divorce, surviving the death of a loved one, being financially devastated and more. All facing circumstances that seem overwhelming and unsurmountable.
The resounding theme of overcoming is captured in these emotionally charged stories. This book serves as a collective voice to anyone who is struggling, stuck, scared, depressed, and looking for something bigger while praying for some glimmer of hope.
Up Until Now: Inspired Stories from Real People on How to Embrace Your Fear, Move Forward and Transform Your Life available on Amazon.com.
About Diana Cherryn Kelly, Ph.D.
Co-Founder and Managing Partner of an educational consultancy and a social enterprise in the land of sand dunes, date palms and camels where today, instead of camels, Lamborghinis, Rolls Royce, Ashton Martins and Ferraris swarm the streets. Residing in Dubai, Dr. Diana Cherryn Kelly, is a Malaysian national of Indian descent.
She is a globetrotter, widely traveled from Asia to the Middle East and the Americas, advocating for social transformation through education. With her passion for public service, she gets involved from the grassroots level. Dr. Kelly is also on the board of directors of non-governmental organizations (NGO's) in Toronto, Canada and Kenya in Africa.
Dedicating her life at a young age, Dr. Kelly's vision and mission of building a brighter future for our children, youth and women drives her. Her work has touched and changed lives. It has also inspired and encouraged the hearts of those who work along- side her, the ones who have given of themselves, their resources, time, and expertise.
Over the last several years, in partnership with government entities, corporate leaders and professionals, her work has reached into the lands of the Middle East and the Arabic Gulf countries with transformational educational programs such as STEM Education, Financial Literacy, Career Development and Early Childhood Development.
Dr. Kelly is also a proud mother of four children. Young at heart and spirit, she has a zest for life, love and laughter. Her favorite hobbies are reading, walking in nature, swimming, yoga and simply enjoying time with family and friends.