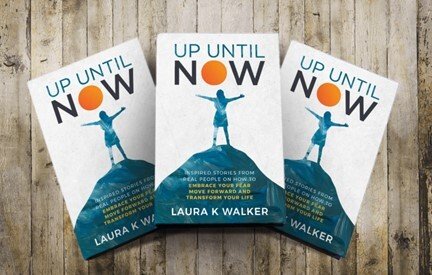 ROSWELL, GA: Up Until Now: Inspired Stories from Real People on How to Embrace Your Fear, Move Forward and Transform Your Life rocketed to the top of the best seller lists in a number of categories in multiple countries including the United States, Canada, United Kingdom, France, Australia and more.
Up Until Now is a compilation of true stories from everyday people who were hurting, anxiety ridden, distraught and broken hearted Up Until Now…These amazing souls faced their fears and stepped out in Faith; mentally, physically, spiritually, emotionally, and financially. That decisiveness of action facilitated massive transformation in a positive way.
Featured author Dani Atkins shares her story along with others in this moving book, designed to give the reader a quick dose of inspiration.
Real people from all around the world share their true stories of pain, heartache, grief and loss. They share their moments of overcoming and creating a renewed hope and reality after the storm settles. It's all Up Until Now…because their stories do not end there!
Through these stories of transformation, the reader will feel the genuine and authentic hearts of each of the authors as they write about job loss, navigating a messy divorce, surviving the death of a loved one, being financially devastated and more. All facing circumstances that seem overwhelming and unsurmountable.
The resounding theme of overcoming is captured in these emotionally charged stories. This book serves as a collective voice to anyone who is struggling, stuck, scared, depressed, and looking for something bigger while praying for some glimmer of hope.
Up Until Now: Inspired Stories from Real People on How to Embrace Your Fear, Move Forward and Transform Your Life available on Amazon.com.
About Dani Atkins
Hailing from Grand Rapids, MI, Dani Atkins is an Action-Charged Empowerment coach, specializing in ballroom dance, multi-style choreography, and Pilates. She is the creator of the "Eight Week Hero Challenge," author of "No Cape Necessary," and designs courses, journals, and other resources to help others take action and level-up their self-confidence.
As a dance professional, she has had the honor of winning multiple championship titles in American Smooth and Specialty Styles, she has performed and trained internationally, choreographed for and danced on national television, entertained and assisted in multiple charity events, raising millions of dollars for the fight against breast cancer, and earned her Masters Examiners Certification in American Ballroom.
When not in the studio or lost deep in projects on the computer, she enjoys playing piano, composing music, painting, golfing, reading, baking, traveling, hiking, visiting with friends and family, and finding new ways to expand her physical and artistic horizons.
She is enthused to be included in "Up Until Now," having greatly benefited from that exact phrase herself—it's the perfect reminder that amazing life shifts can occur at any moment, even up until now, if we are paying attention and choose to follow the subtle but "sparkling feelings" of our intuition.