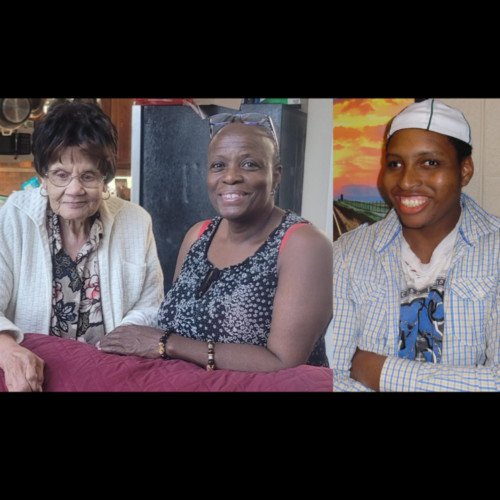 Recently, life has dealt a local hero incredible blow – Donna Emilien experienced two hurricanes in one day – losing her son and seeing her family home, devastated by Hurricane Ida flooding. 
A pillar in the community – since 1996, Donna Emilien has worked with young men with developmental disabilities, raising 46 foster kids providing a home environment for over 32 years. Since 2014, she's been "mom" to 9 young men in the adult system with various behavioral challenges and disabilities through the group home she runs in Colorado. 
On the day hurricane Ida came through, one of those young men, her foster son Javon 25, passed away unexpectedly from several blood clots in his lungs and legs. Friends and family have been working hard to rally the community to help plan and pay for memorial services for Javon.  
"Javon was a little jokester. He was fun-loving, loved to dance. He considered himself a break dancer and beatbox dancer. He was gentle and patient with my mother-in-law, nd he was prayerful. If someone had an ailment or was down or felt downtrodden, he was the first to give a prayer and say a prayer over them." 
The same weekend Javon passed away; her mother-in-law (who lives in Louisiana) suffered major water damage to her family home from Hurricane Ida flooding. Donna's mother-in-law suffers from early onset dementia and Alzheimer's.  Despite her own very full plate, Emilien rushed to Louisiana and brought her mother-in-law back to her home in Colorado for now. 
Emilien explained, "She doesn't have insurance. There is about $25,000, $30,000 in water damage to her house. We're going to, of course, see what FEMA will help with. She lives on a fixed income. She's retired, her husband passed away, so she doesn't have his retirement anymore. She wants to be in her home, but it was unsafe." 
Donna' s 89-year-old mother-n-law's home is riddled with snakes and rats, garbage, flooded carpets, mildew. Donna had to go and get her mother-in-law, flying from Denver to Alabama, renting a car and driving over.  Authorities are telling evacuees that there are no shelters, no electricity, very limited resources for food, gasoline, supplies and absolutely no medical services. 
Simultaneously Emilien has been working caring for her mother-in-law and had to navigate home repairs, she also has had to deal with her own loss of income, unable to take in another placement in her son's old room as the family reels from grief and work to plan and prepare a funeral. Her family lives in the home as well as the young men she cares for and now adding her mother-in-law to the house means her current household spans 4-months to 79 years old and everyone is dealing with the loss of Javon, he passed away in the home. 
Despite her own recent personal hurricanes, Emilien is still full of hope and concern for her family and the future. She shared why she has been tirelessly driven to help others, "I had a son that had developmental challenges and learned a lot of tricks of the trade raising him. When I started working in residential settings, I applied some of those same aspects to treatment and behavior modification and was extremely successful." She added, "I tell my boys—This is your home, regardless of whether you stay here for a one month or 10 years you can always come back here and see the family. We are here for you. I felt like I could fill a void that was missing in a lot of these young men's lives."  
Her home is called, Beit Shalom, which means, "House of Peace" very fitting.  
The help Donna and her family could use: 
Provide a proper funeral for Javon

Get grief counseling for her household

Maintain her home and business for the next few months through her losses

Receive support and helphermother-in-law get her house repaired

 
A GoFundMe account for donations to support Donna Emilien can be found at: www.//bit.ly/donnagofundme