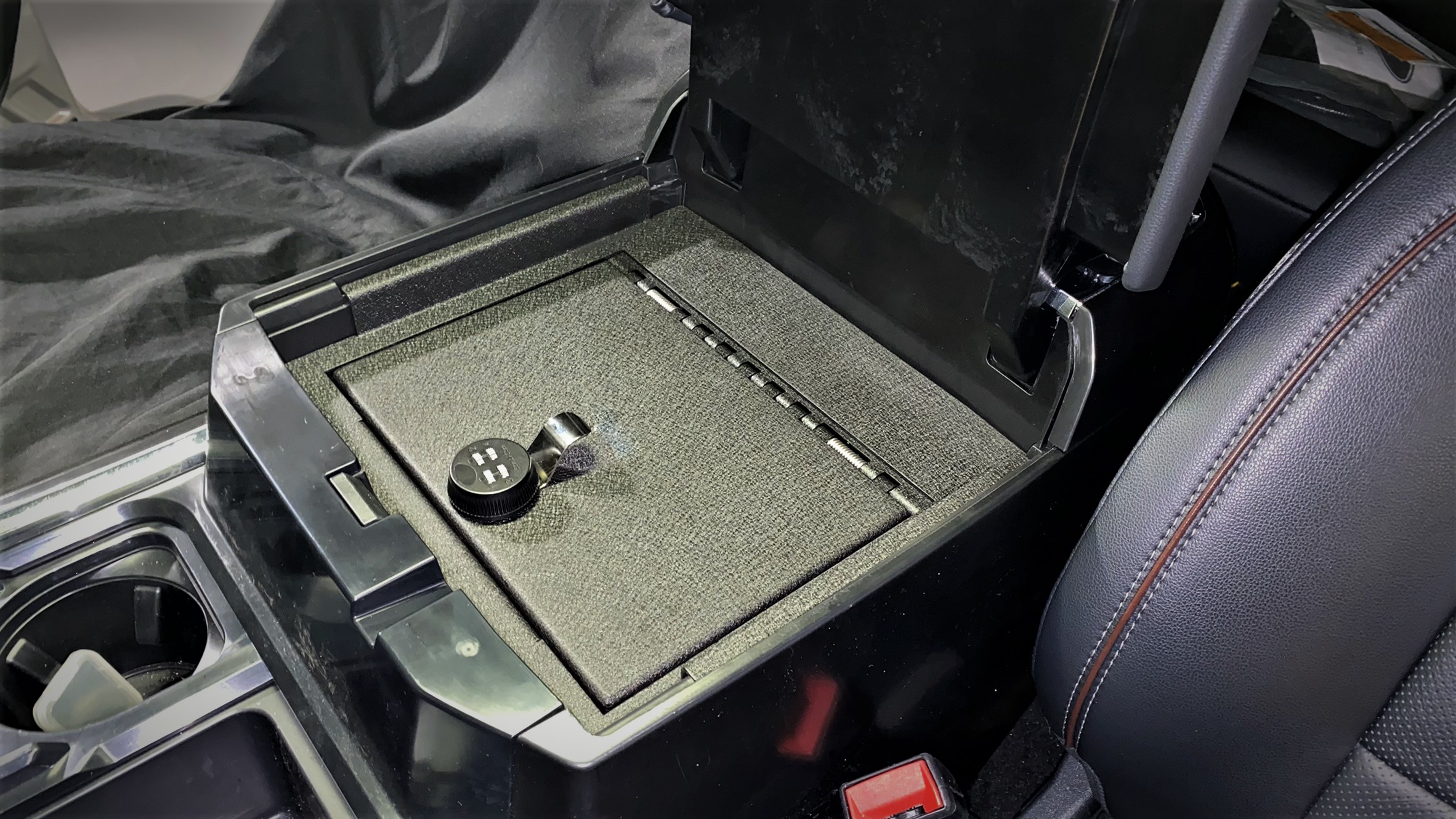 The company's most recent launches include the Ford Mach-E Mustang, among others.
Columbus, OH - Console Vault, the creators of the original in-vehicle safe, origins began with just one product: A center console safe designed for the 2001 Hummer H2.  From there, the brand expanded its vehicle options, continuing to focus primarily on Trucks and SUVs.  
Console Vault got its big break with Ford Motor Company when in 2012, Ford became their first direct to manufacturer relationship, catapulting Console Vault to the forefront of the In-Vehicle Safe market. Since then, their OE presence has grown, not just with Ford, but with Toyota North America as well. In 2022, Console Vault received the prestigious gold supplier award for excellence in quality and customer service. 
Console Vault has also continued to expand their brand offerings from an ecommerce aftermarket perspective, and currently offers in-vehicle safes for 19 different vehicle brands, including one for the Harley Davidson Motorcycle.  Just last year, Console Vault launched their first Kia vehicle safe for the Kia Telluride, as well as the Tesla Model 3 and Model Y vehicle safes.
As of March. 2023, the brand has already successfully launched the newest brand in their lineup, with the Hyundai Palisade Center Console Safe, along with three new Toyota applications, and two new Ford applications. 
One of Console Vault's most popular in-vehicle safe applications is for the Toyota Tundra, and now new 2022+ model year Tundra owners can purchase a Console Vault Safe to secure their valuables on the go. In addition, the brand has also just released a safe for the current year model Toyota Venza and Toyota Sequoia. 
Perhaps the most exciting new release this year so far has been the Ford Mach-E Mustang safe, expanding Console Vault's product applications for the sport and electric vehicle market. In keeping with their over 20 years of engineering Ford Truck Safes, the waitlist sign up is available for the most recent product launch for the 2023 Ford Super Duty Truck, available soon. 
Expect to see additional new releases for Jeep, Subaru, and GMC later this year. 
While creating a console specific safe for every single type of vehicle on the road is not a viable option, the customer-centric company takes great care to capture and record customer requests.  In addition to market research, Console Vault uses customer feedback to help guide their ever-expanding product line.
Because of their expertise, Console Vault also has relationships with interior manufacturers who supply directly to OE Manufacturers.  Their OE customers have noted Console Vault as "the gold standard of in-vehicle safes." 
For more information about Console Vault, visit their website at https://www.consolevault.com.
About Console Vault
Console Vault, the original in-vehicle safe, is designed to protect your valuables from auto theft. Built directly into the vehicle, these safes are made from heavy-gauge steel with a choice of locking mechanisms. Safe, easy to install, and held to automotive manufacturers' stringent quality standards, Console Vault in-vehicle safes are designed for light trucks, SUVs, motorcycles, and select sedans across many makes, models, and years. The company consistently updates hundreds of different applications as new vehicle models come out each year.
Media Contact
Company Name: Otter PR
Contact Person: Gabrielle Lask
Email: Send Email
Phone: 800-648-6854
Address:100 E Pine St Suite 110
City: Orlando
State: Florida
Country: United States
Website: OtterPR.com